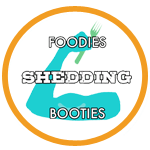 I am so thrilled to announce that I will be hosting my first "Foodies Shedding Booties" session at the upcoming Food. Fight. Write. Conference next month in Las Vegas!
Have you registered for the hottest conference of the year? If not: Click Here.
This early morning session is guaranteed to energize, motivate, and satiate!
We'll be kicking things off with an introduction of the "Foodies Shedding Booties" movement, leading into a revitalizing workout led by Jodi Tallo of Pilates+Yoga in Las Vegas.
After the workout, guests will be treated to an array of new fitness items and healthy treats from my friends at Lorna Jane, Stonefire, Pure Bar, Navitas Naturals and more!
If you're already attending this awesome conference (seriously, the sessions and sponsors involved are some of the best I've ever seen!) then join the Foodies Shedding Booties session by clicking here.
Want in on the action?? I'm giving away a FREE ticket to the conference too!! Just enter below for your chance to join is at The Plaza Hotel in Las Vegas November 12-16th!
a Rafflecopter giveaway